Brochures
Please select a catalog to view:
Warehouse Safety
Safety is paramount. Ziglift offers a full range of warehouse safety products, warehouse safety evaluations and preventative maintenance programs for your warehouse. We are proud to work with our partners to provide the latest in safety equipment and floor paint striping.
Here are just some of the featured safety products and services we offer:
Guard Barriers & Rack Protection
Guard Rails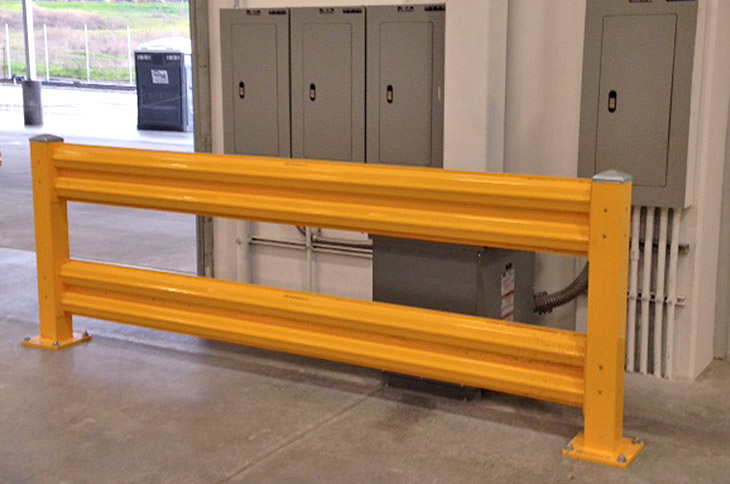 Guard rails are primarily used in warehouses near offices or other locations where high pedestrian traffic might be involved. Protect your employees and offices with heavy duty guard barriers.
Guard rails are also used to prevent damage to certain expensive machinery and material handling equipment such as racking systems, conveyors, bailers, compressors and other vital equipment that needs protection from forklifts or other heavy warehouse equipment.

Guard rails are offered in different lengths and can be connected in a continuous row or cover corners as well. You can use either 18" H columns with single panels or 42" H columns with double panels depending on your preference. The panels come in 6' , 8' and 10' lengths. Guard rails are quick and easy to install and is reinforced by anchoring to the floor.
Column Protectors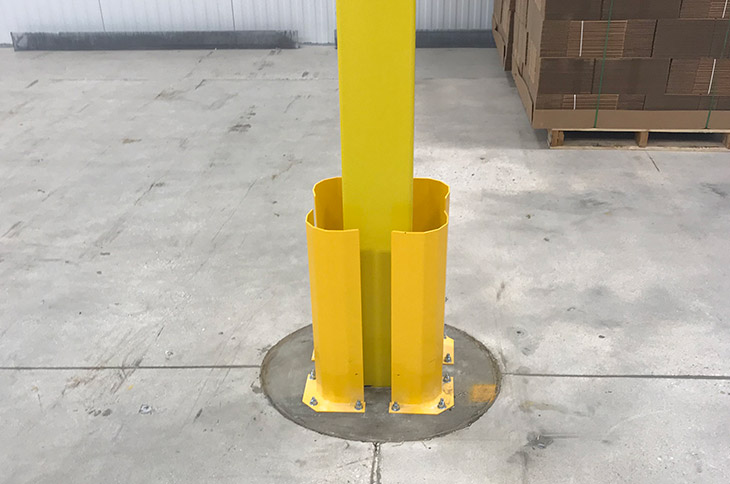 Column guards are designed to protect the column of the upright from forklifts and other heavy duty equipment. Column guards can either be bolted to the column of the frame or anchored to the floor in front of the upright for protection. The column protectors are offered in a variety of shapes and sizes to accommodate your racking system and particular needs. Column protectors are a great and cost effective way to protect the integrity of the uprights from damage and can be easily swapped in the case of heavy damage to the protector.
End Aisle Protectors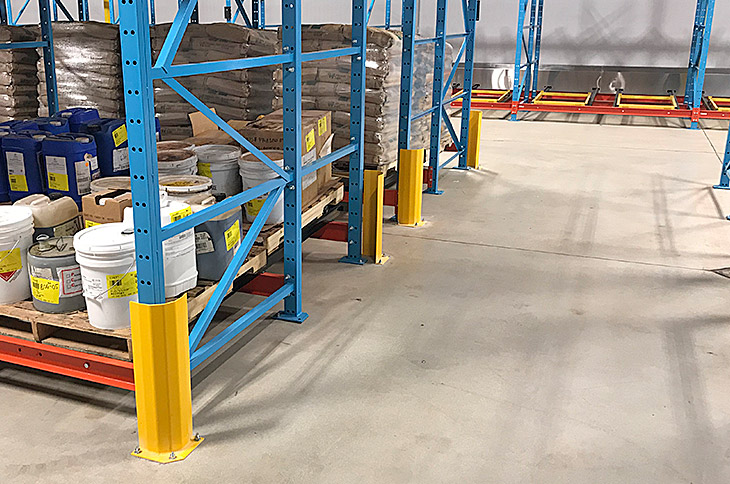 End aisle protectors provide floor level protection to rack ends and require minimal space. The unique design allows the protector to be mounted on the outside of the rack end or on the inside of the rack end. When mounted on the outside of the rack end, the end aisle protector prevents damage to rack ends caused by forklifts or other heavy duty equipment. The heavy duty, narrow profile only takes up less than 1" of aisle space. For inside applications, the rack protector prevents damage to rack ends caused by pallets or other items being stored inside the rack bays. The narrow profile maximizes the amount of available storage room. Space Saving Rack Protectors are available for 42" or 48" racks in both single and double ended styles. Special lengths or adaptations for seismic applications can be accommodated.
Bollards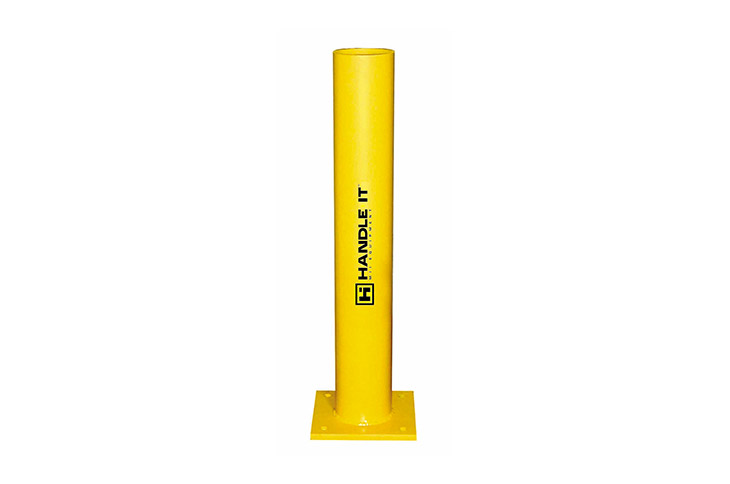 Bollards are designed as a barrier to keep unwanted material or equipment from entering a specific area, especially small openings. Highly visible, these heavy duty steel bollards keep people and equipment safe from injury or damage. The bollards come in various sizes to accommodate your needs and with simple installation, the bollards are securely mounted to the concrete floor and provide an excellent barrier separating vehicles from people.
Warehouse Floor Paint Striping
There are many benefits to adding paint striping:


Safety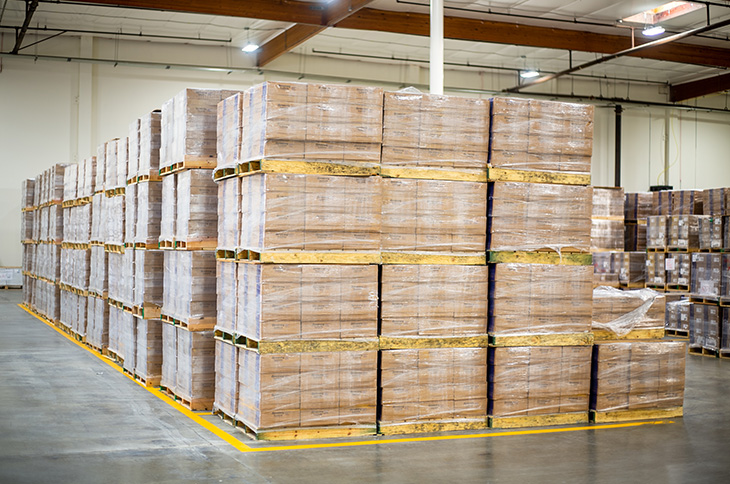 Floor striping allows you to quickly communicate safety information in an easy-to-understand way. For example, yellow and black stripes warn employees of hazardous areas, while red and white stripes denote safety equipment such as fire extinguishers that should not be blocked by vehicles.
In addition, clearly marking aisles may help you stay compliant with OSHA safety standards.
Better Traffic Flow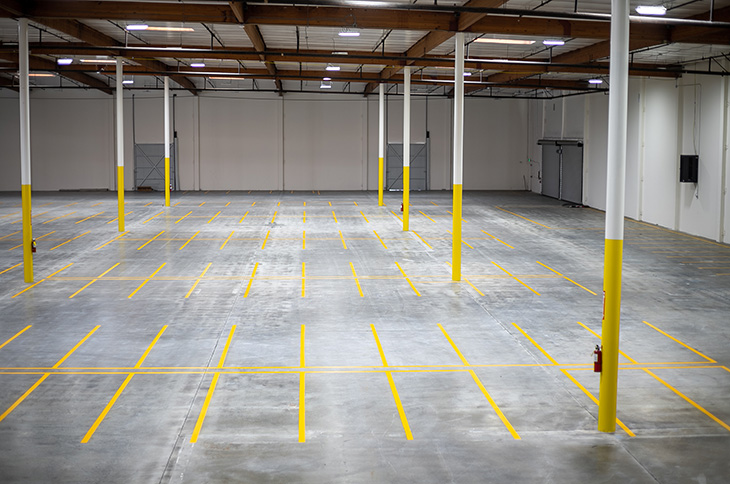 This not only encourages the two to stay out of one another's way, but it also sets clear expectations and helps to avoid surprises around corners.
Consistency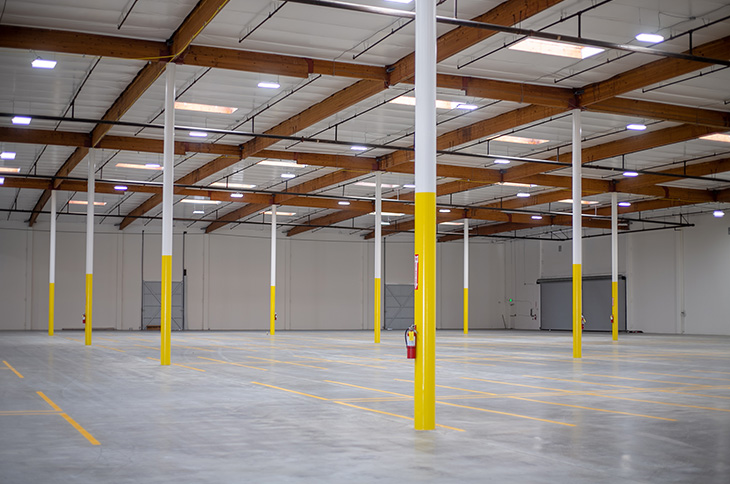 In addition to line striping, floor markings may include color zones to indicate where certain materials are to be stored, where vehicles should be parked, and where tools can be accessed.
Improved Morale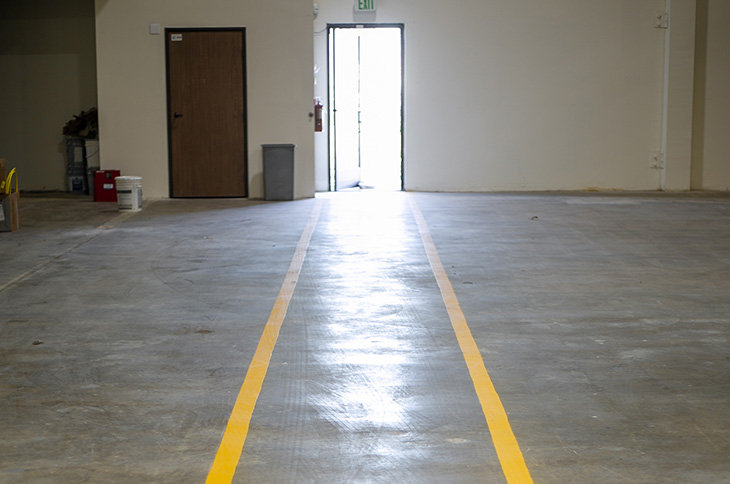 Materials are less likely to be lost in the transferring process, further smoothing out the workflow process. In addition to creating a neat and well-kept environment, floor striping encourages employees to take pride in their workplace.
Contact us today for more information!
If you are in the process of moving, expanding, or re-organizing please feel free to contact us for a free consultation. Please visit our Projects section to view a showcase of several projects we have completed in the past.