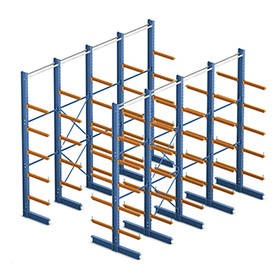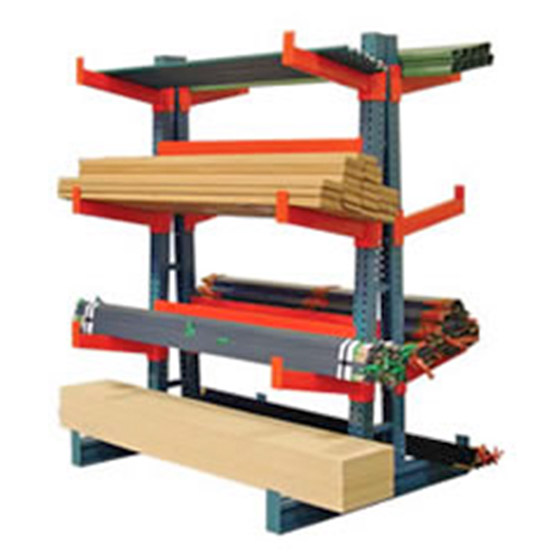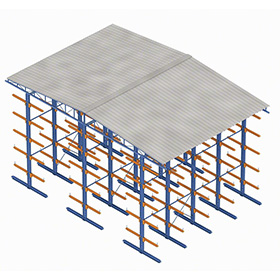 For long items that are stored in the warehouse, cantilever racks are the most convenient storage method. Pipes, wood boards, molding, metal beams, carpet and a variety of other products don't fit into other racking systems efficiently. Cantilever racks are made with a column design and horizontal beams across the base to add additional stability and can be configured for single or double-sided access. A series of arms are created according to your specifications and then fitted to the racks. Cantilever racking can be customized to your needs to provide an effective, cost-efficient storage method for your warehouse or other facility.
For large items, our Heavy Duty cantilever systems offer security for heavy loads. The choice in various arm lengths provides you with a variety of options and will be easy to assemble. Combine your cantilever racks with other storage systems, like pallet racks and light-duty pick shelves for a well-rounded omni-channel solution.
For additional information on heavy-duty cantilever racking, new or used product availability, or to request pricing and quotes please email us or give us a call today!
Request Information or Quote
Cantilever Overview
The choice of the most appropriate system depends on the weight, size, and height of the product to be stored.

Columns For Structural Cantilever
The columns are manufactured in either medium duty or heavy duty styles. Every column includes punch holes for positioning the bolted arms at 3" intervals and for the joints and cross bracing to attach to the core at specific points.

Single-Sided vs. Double-Sided Cantilever
Single-sided is normally placed against walls allowing for access from one side only.
Double-sided cantilever can be used to allow access from both sides of an aisle.
Heavy-Duty Cantilever
Columns have a welded Base Plate with 2 anchor holes and require special anchors.
Columns are used to attach the arms and come in a standard blue finish.
Single Sided Columns
Formed from structural steel with holes punched only on one side at 3" centers, column profile differs depending on the supporting load.
Double Sided Columns
Formed with the same profile as single sided columns except has both sides punched with holes to accommodate the arms on each side of the column.

Standard Widths: 8" / 10"

Standard Heights: 8' / 10' / 12' / 14' / 15' / 16' / 17' / 18' / 20' / 24' / 30' / 36' / 40'

Cantilever Base
Bases are attached to one side of the column and come in a standard blue finish. Double sided columns require 2 bases.

Standard Lengths: 18" / 20" / 24" / 30" / 36" / 40" / 42" / 48" / 54" / 56" / 60" / 64" / 100"
Cantilever Arms
Arms are attached to single or double sided columns to support the loads and come in a standard orange finish. The arms are formed from structural steel that can vary depending on the arms total length and load being stored.

Standard Heights: 3" / 4" / 5" / 6"

Standard Lengths: 18" / 20" / 24" / 30" / 36" / 40" / 42" / 48" / 54" / 56" / 60" / 64" / 100"